Hello,
This morning I needed to make myself a fire to warm things up a tad and ignite the writer within! The weekend had left me with a touch of the 'Monday-blues'. I had lots of fun over the weekend having had a friend to stay. I find a guest or two is great for jazzing up life. We had our breakfast al fresco style and it transported us into summers gone by. It was a weekend of munching good food, sipping good wine and the telling of good stories.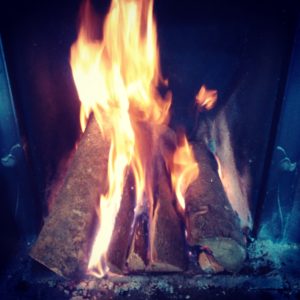 The dry weather and sunshine have given the wild flowers their heads, so to speak. Primroses, violets and bluebells seem to be blooming from every nook and cranny. They are effortlessly replacing the daffodils. Below are the wild flowers I plucked last night. I then placed them inside the heaviest books I could lay my hands on. This is how I used to press flowers as a child. I will leave them for a couple of months before I see how they turn out!
But now I must introduce you to 'Lucky' the lamb that I mentioned in last month's post. He had an unusual first couple of hours of life. One morning I went to the lambing field to check our plump, pregnant ewes. Low and behold, I found one of our first-time mothers standing over her twins. A wave of joy tickled me for a moment only to be swept away by sadness. The new mother had not licked the sacks away from both of the lambs' mouths or noses. Both lambs lay perfectly formed on the dew sparkled grass, pure in colour and unmoving.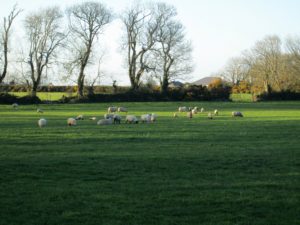 I knew there was nothing much anyone could do now but I still dashed back to the house for help. On my return I had Uncle Tim with me, and as we approached the early morning scene we both took it in turns to gasp and sigh at the waste of life before us. As we turned away my uncle's ears pricked, I imagine much like an animal. He was convinced he heard one of the lambs bleat. I said, "wishful thinking", and then suddenly my own ears tuned into hear a weak bleating nearby. I made absolutely sure it was not coming from the lambs we had taken for dead. And yet there it was again, a faint bleating of hope and survival being.
My uncle and I used our ears as best we could in order to track down where the noise was coming from, hearing was our only hope of finding it, for there was no sign of another lamb about anywhere. Finally, we dangled our heads over a 6ft ditch, where lashings of brambles and thick mud tarnished a clear view. We heard the bleating again, coming from the ditch, this time the bleating was more vibrant and demanding than before. My uncle, now somewhat excited, jumped right into the ditch like a gallant rescue dog: he knew he was onto something! Within a few meters of my uncle scrambling through the mud a newborn lamb appeared, cold and exhausted with the weight of mud dragging him down.
Uncle Tim yanked the lamb from the mud and I scooped the lamb up from the side. We both had the look of glee smeared across our faces. I used my hands to scrape away excess sludge from his thin legs. Then I went about giving the lamb a quick rubbing down, hoping to warm his cold body. We knew the best outcome for this lucky little chap was for him to be reunited with his mother, if she would take him back after having lost him. We watched from a distance and soon enough the new mother began inspecting the lamb inquisitively. Within a few sniffs, she recognised 'Lucky' as her own.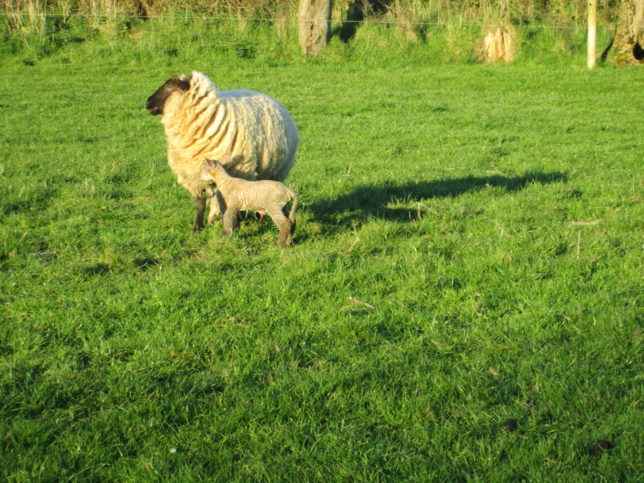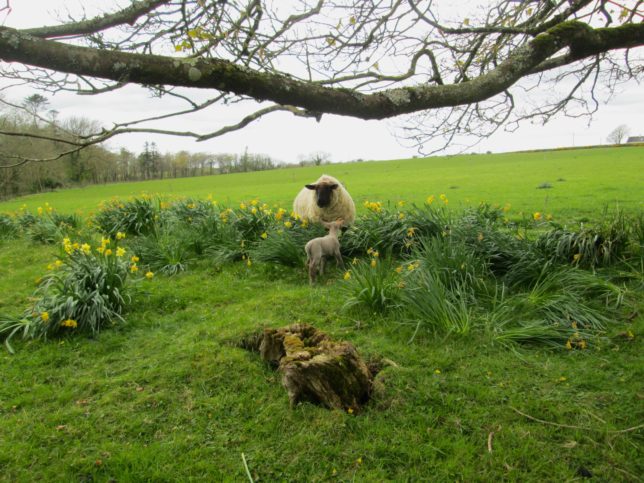 And Lucky the lamb was very lucky indeed as we think he would not have lasted another hour in the ditch. He skips about the field full of milk and full of 'beans', eager to be king of the castle with the other lambs.
Please feel free to share your own experiences of lambing or flower pressing in the comment box below.
Do you know anyone else who would enjoy cowpatsanddaychains.com blog posts? If so please make use of our new Facebook share button along with an e-mail share button. You can also follow my pictures by clicking on the Instagram button. I hope this makes reading and sharing my blog posts easier for all.
Thank you and bye for now.