Hello,
Today I share with you a fleeting moment that I was lucky enough to witness this morning!
Whilst undertaking the mundane task of relieving the 'slop' bucket at the compost heap, I was promptly beckoned out of a daydream. I was on my way to wash the rather foul residue out from the bucket when a high-pitched holler awakened my ears, much like the sensitive ears of a Muntjac Deer.
The call repeated in perfect tone, it's power forced my limbs to stop and then turn towards the sound. Compared to the collective drone from the Rooks (who incidentally I am very fond of), this bird's call was somewhat more regal sounding and somehow impossible for one to ignore.
Peering towards the sky, not one, but two magnificent birds swept into view. I believe both were Marsh Harriers. They looked to be a fine pair as they glided graciously in the roomy air upon which they floated.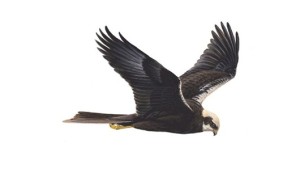 Their movements seemed improvised and yet both flew in coincidental unison. I imagined each bird clasping a long invisible ribbon as they swooped effortlessly tying up the dull clouds, for it is a cloudy sort of day.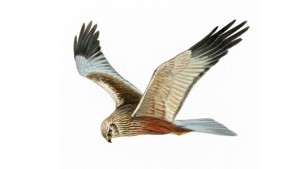 Within this rare display, I noted a tinge of pompousness about their large and imposing wing-tips. A rather ardent character matured and could be detected mostly in the Hen Marsh Harrier. She is the largest and most hypnotic of the two. The Marsh Harrier's distinction in breeding glowed in the dull backdrop when the far less elegant Crows and Rooks came boorishly on the scene to retain their territory.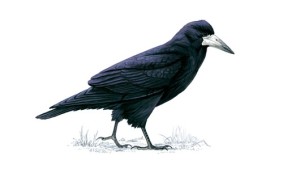 There was no doubting that the Rooks and Crows were of a more common nature, yet I sensed a strong willed-indignation directed towards the unwelcomed Harriers. They both insolently seemed totally unaware of the small mass of Rooks and Crows that had begun to circle and raise their irksome ugly calls of warning at them.
As the Rooks and their cousins gathered, they morphed from singular perishable birds into a formation of numbers like that of a small army. As a group they obtained a momentum in flight that seemed to express an inner courage. They darted upon the Marsh Harriers, teasing and testing them while they could. I could tell they were aware of the rebuke that was sure to follow from the protective malice they sprang upon the inimitable pair of Harriers.
Finally out of sheer irritation one of the Harriers exerted an unsympathetic gesture towards the Rooks. Although it was a small and quick movement the bond of Rooks dispersed at their peril so as to avoid an injury, or worse.
It seemed to me that the Marsh Harriers could have stayed there and played out a little more 'sport' with the Rooks if they felt like entertaining it. But the mood was calm and they soon advanced over the trees and corn field beyond, diverting their energies elsewhere.
The Rooks, half lucky looked tentatively triumphant. The small army relaxed and circled their way back to the Rookery that has prospered at Butlerstown for over one hundred years.
If you would like to find out more about Marsh Harriers look on http://www.rspb.org